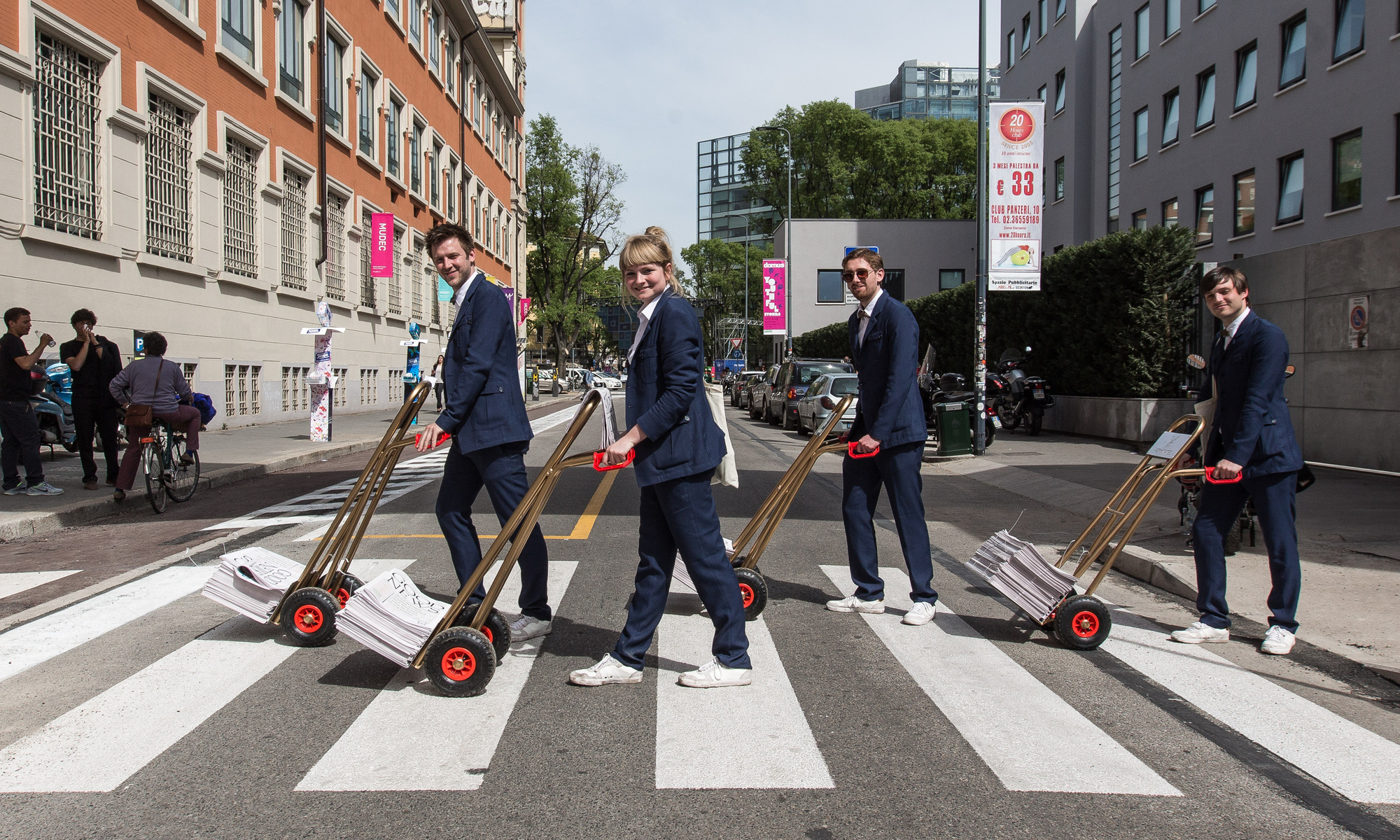 WORKMATES PRESENTS GOOD NEWS IN MILAN
FOURTEENTH OF APRIL TILL THE NINETEENTH OF APRIL
This year during Milan Furniture Fair, Dutch design collective Workmates will distribute Good News, a newspaper put together by the five members, celebrating the ideas and processes behind their work.
The Workmates are not about shiny products at prosecco-fueled parties in glossy showrooms. They represent a mentality. And to share that mentality, they have printed this zine.
The open collective - currently Roos Meerman, Joris De Groot, Rick Tegelaar, Klaas Kuiken
and Casper Tolhuisen - work independently of each other, and across subject areas. But all of the designers share a hands-on approach, practice in a workshop environment, and produce work that is experimental with a strong focus on process.
Not intent on simply designing a product, the Workmates prefer to build their own machines or hack a factory's manufacturing processes to develop new techniques, or
test the potential of a material. Good News will take visitors into the workshops of the designers to show what happens behind-the- scenes.
"Instead of using space in Milan to show finished products, we're using space for our ideas," they explain. "We wanted to show the world behind the work that you don't usually see - so this is what we're taking to Milan."
The papers will be available
from a central hub at Weltevree (Via Voghera 8) and distributed throughout Milan Furniture
Fair on branded trolleys, by couriers dressed in custom-made
Workmates suits by Dutch menswear designer Sjaak Hullekes.
Inside the Good News paper you will find interviews with members of the group, an essay by Dutch author Ed van Hinte, a feature on industry in Arnhem, and photo essays documenting elements of the Workmates' processes - among many other stories on the design practice and daily life of the collective.
All graduates of the ArtEZ School of Arts, the Workmates collective was established in 2013 to give an identity to designers based in Arnhem, working in a process-driven way. An open collective, the group grows and changes in an organic fashion. At present, most members of the collective work in studios at a high-tech industrial compound (IPKW) in Arnhem, where designers are welcomed and the crossover of design and heavy industry encouraged.
Weltevree & Workmates Release Party -
Featuring the launch of Workmates' Good News paper
Tuesday, April 14th 7 pm - 9 pm
Via Voghera 8 , 20144 Milan